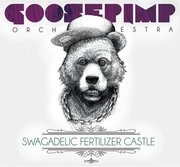 Goosepimp Orchestra's Finishes New Album!
Swagadelic Fertilizer Castle mixed and mastered at The Space by Brian Redmond!
Check out this sample track :

Goosepimp Orchestra - Strap In Or Strap On
After you listen to the sample track and obviously want to get the whole album, look below!
For a free digital download : www.goosepimp.bandcamp.com/
Goosepimp Orchestra is an 8 piece psychedlic latin/funk dance party. Driving elements from all over the musical spectrum into an unrelenting cosmic force, Goosepimp's live performances have garnered them a reputation for stirring crowds into a dancing frenzy. Smothered with high energy and seasoned with a carefully crafted balance of experimentation and groove, their grassroots mentality has been captivating a devout and growing fanbase, packing venues just to get their fix of the Goose.