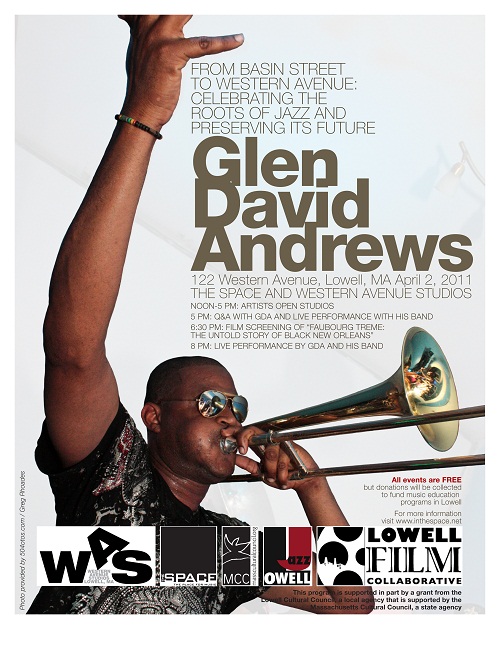 Sat, Apr 2nd, 2011 5:00pm
Glen David Andrews
"FROM BASIN STREET TO WESTERN AVENUE: CELEBRATING THE ROOTS OF JAZZ AND PRESERVING ITS FUTURE"
Emerging New Orleans star Glen David Andrews returns to Lowell on Saturday, April 2 for a pair of free performances at Western Avenue Studios. "The Crown Prince of Treme" and his band will play two shows and speak to young local musicians about the evolution of jazz, New Orleans culture, his own career and mentors, and the importance of music education. The shows headline a day billed as "From Basin Street to Western Avenue: Celebrating the Roots of Jazz and Preserving Its Future." All events are open to the public. Admission is free, but donations will be accepted to create The Tuba Fats Fund for Music Education in Lowell.
Noon-5 PM:
Open Studios. More than 180 working artists open their studio doors to the public.
5 PM:
Q&A with GDA and Live Performance with His Band. Mike Flynn, of 980 WCAP, will lead a Q&A with GDA, followed by a rousing performance by the band. This performance is open to the general public and will be attended by young music fans and aspiring musicians from Lowell public schools and local youth organizations.
6:30 PM:
Film Screening of "Faubourg Treme: The Untold Story of Black New Orleans". This acclaimed hour-long film documents the enduring legacy of one of the nation's oldest African-American communities, which is also the birthplace of jazz. The film features GDA, and the screening will also be attended by Caryn Cossé Bell, a UMASS Lowell history professor and the film's Research Director.
8 PM:
Live Performance by GDA and His Band. Put on your dancing shoes and prepare for a raucous, rump-shaking performance to cap off the day.
ABOUT GLEN DAVID ANDREWS
A 30-year-old native son of the historic Treme neighborhood, Andrews first played Western Avenue Studios in 2009. His thrilling performances draw upon his cultural lineage, incorporating the sounds of gospel, blues, traditional jazz, funk, and brass band street music. He has toured the globe with his own band and alongside such luminaries as Bonnie Raitt, Lenny Kravitz, and U2's The Edge. He is featured playing himself on HBO's "Treme" series and was recently honored as a "Future Hall of Famer" by the Louisiana Music Hall of Fame. He is also the cofounder of "Trumpets Not Guns," a grass-roots initiative to distribute instruments to disadvantaged youth in New Orleans. www.glendavidandrewsband.com
ABOUT THE TUBA FATS FUND FOR MUSIC EDUCATION IN LOWELL
The Tuba Fats Fund honors the legacy of its inspiration by creating opportunities for young musicians and fostering their growth. The Fund targets disadvantaged and underserved youth in Lowell. Money raised will support: scholarships; instrument procurement and distribution; workshops and clinics; networking and performance opportunities; and musical development. The Fund is a collaborative effort between individuals and organizations. It was founded in the spirit of Anthony "Tuba Fats" Lacen, whose contributions to music extend well beyond his storied career as a tubist and band leader in New Orleans. Lacen died at the age of 54. But in his too brief life, he mentored and taught many of the brilliant musicians in New Orleans today, including Glen David Andrews, Kermit Ruffins, and Troy "Trombone Shorty" Andrews. His life is a universal testament to what people can do, assisted by music, to uplift their community and its youth, whether along the banks of the Mississippi or the banks of the Merrimack. "From Basin Street to Western Avenue" is a collaboration between Lucy the Dog Productions, The Space, Lowell Day Jazz Camp, Western Avenue Studios, and the Lowell Film Collaborative. The program is supported in part by a grant from the Lowell Cultural Council, a local agency that is supported by the Massachusetts Cultural Council, a state agency. For more information, contact Andy Smith at andy@welzsmith.com or 978.996.4354.