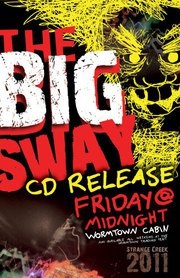 The Big Sway Finishes New EP
Tracked/Mixed & Mastered @ The Space
Sample track from their new EP!

The Big Sway - Cheese
For more info :
www.facebook.com/thebigsway/
Download EP :
thebigsway.bandcamp.com/
The Big Sway is a sonic wrecking ball, smashing down the walls between the epic psychedelia of funk and the raw fury of punk rock. A constantly evolving trio based out of Massachusetts, The Big Sway has been wowing audiences of all ages since their conception in the Summer of 2007. With their long anticipated first release, The Cheese EP coming out May 27th of 2011, The Big Sway is gearing up for an exciting summer of shows, and taking very seriously the importance of smart, hard hitting Rock 'n' Roll today's world. Check out The Big Sway playing a city near you this summer, and grab The Cheese EP from them in person or download it here: thebigsway.bandcamp.com/.